Experience the nicest ski resorts in the mountains
With the ultimate lift pass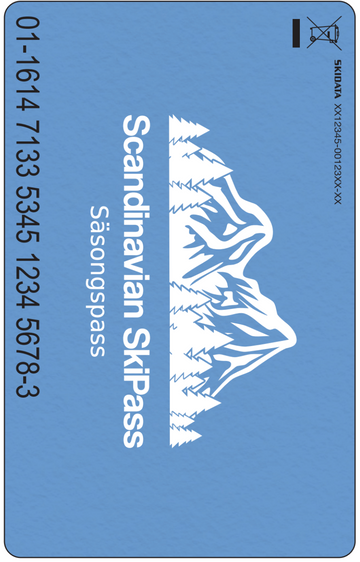 Season pass/sek 5,695
Scandinavian SkiPass
Scandinavian SkiPass gives you access to 16 ski facilities in Sweden, Norway and Italy during the 23/24 ski season. The card is valid for an unlimited period throughout the season at 8 of the facilities and 5 days of riding at the remaining facilities. Novelty! Family discount: Half the price of the children's pass when buying 2 adult cards.
SkiPass
questions and answers
Scandinavian SkiPass
The ultimate season pass for skiing in Sweden and Norway, the pass gives you access to some of the mountain chain's most interesting and genuine ski resorts.
Buy online
Order the card here on the website and receive it within a few days. You then show the card at the respective ski resort to have it activated.
More ski resorts
Visit several of the fantastic ski resorts in the same season with one and the same season pass, and save money on your skiing.
Our vision
"A common season pass for several attractive ski resorts around Scandinavia."

- Ivo Langefors, Founder
About the project
Benefit portals
Use your health care allowance to buy the pass through the job's benefit portal.
What do the skiers think?
★★★★★

"I really appreciate being able to go to the slightly smaller and more personal ski resorts that Scandinavian SkiPass offers, and it's a real luxury to be able to jump between the facilities."

★★★

"Everything has worked well. The facilities knew the card and had full control of the whole thing. For our part, it was a tour south at the beginning of the season with visits to Trillevallen, Bydalen and Borgafjäll. Then Björkliden followed two turns. Hope for a continuation next season ."

★★★★★

"For us, it was one of the funnest winters in a long time, and we made it to Bydalen, Trillevallen, and Huså many times. In addition to that, I was at the border a lot and also a magical Easter in Stranda. Loading the card was very easy and we felt welcome everywhere. For me it will be a no-brainer to buy it again next year and I've brought many friends on that train when they realized how good it was. A long awaited card that delivered year one."

★★★★

"Scandinavian SkiPass was perhaps my best purchase ever. I managed to test all the resorts except Huså and the two Norwegian ones. If I hadn't broken my hand in Bydalen at Easter, I probably would have managed them too."

★★★★

"My experiences with Scandinavian Skipass have been really good! There was powder skiing in Riksgränsen and Björkliden, and we enjoyed nice weather and fresh snow at the same time. Riksgränsen really showed itself from its best side. We also got a lot of skiing in Trillevallen and even in Väsjöbacken with the younger ones. I also discovered Gruvbacken in Huså, which really was a little forest skiing gem. It was very easy to load the card, and received nothing but positive reactions at all the facilities. I can really recommend Scandinavian Skipass, two thumbs up."

★★★★★

"Scandinavian SkiPass ger mig möjligheten att utforska flera skidsystem utan att betala hutlöst med pengar. Jag har friheten till att ta mig dig näsan pekar och har 16 olika liftsystem att välja på! Jag som vurmar för landsbygden och de mindre aktörerna älskar det här konceptet och för mig var det ett självklart val. 🥰😍"

★★★★

"Being able to choose between several alpine resorts and go where the snow and weather conditions for the day are at their best, that's the best thing about Scandinavian SkiPass. The card is valid for ski areas that are unknown to many but that offer great skiing and fine snow. Big plus that the card is also valid in Riksgränsen, it resulted in an unprecedented end of the season in 2022. So hats off to the gang behind the card, a really good, flexible and affordable solution for everyone who is chasing the best ride for the day."

★★★★★

"Unfortunately, I only had time to use the card at three ski resorts, but the treatment I have received has been good, and it has been easy to load for both single and multiple days. Once I had accidentally brought the wrong card with me to Bydalen, but when I showed the email communication and receipt for the purchase, I was allowed to load another one at no extra cost. Having the card has felt super luxurious and the only thing I had wished for was that it worked on Frösön as well. Will obviously be a card for the coming season as well."

★★★★

"I think the card is great so far, very fun initiative to collect so many good resorts on one card and at such a good price too."